NCIDQ Exam
If you would like more help with your exam, check out our recommended study guides and flashcards.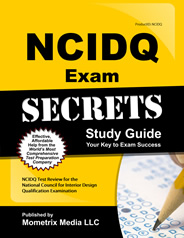 Prepare for your NCIDQ test with the NCIDQ Study Guide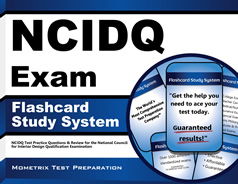 Get started studying for the NCIDQ Test with NCIDQ Flashcards
The NCIDQ exam, formally known as the National Council for Interior Design Qualification Exam, is a challenging and comprehensive assessment for men and women who want to enter the rewarding and fast-growing field of interior design. There are strict education and experience requirements for the exam.
The test is developed by a collection of experts in interior design and test administration. The NCIDQ exam has three sections: codes, building systems, and construction standards; design application, project coordination, and professional practice; and an interior design practicum.
In the first section, 20 questions address code requirements, laws, standards, and sustainable design practices; 23 questions cover building systems and building construction; and 25 relate to construction documents, schedules, specifications, and architectural woodworking. This section also has 12 questions regarding measuring, drafting, and technical drawing conventions and 22 questions on contract administration, interior design forms, and documentation. There are also 23 questions related to furniture, fixtures, equipment, interior finishes, interior materials, lighting, procurement, cost estimating, and sourcing.
The second section of the NCIDQ exam has 17 questions related to design theory and the relationship between human behavior and the designed environment; 20 questions on programming, site analysis, and sustainable design; and 10 questions about the analysis and synthesis of programmatic information. Ten questions focus on furniture, fixtures, equipment, and product sourcing and research; 21 questions consider written, verbal, and visual communication; and 20 questions review project coordination procedures and the roles and goals of related design professionals. This second section also has 27 questions regarding business practices, business ethics, and post-occupancy evaluation services.
The third section of the NCIDQ exam is an interior design practicum, in which candidates perform a series of exercises related to space planning, egress, life safety, systems integration, and other issues. The topics covered by the interior design practicum are divided into five content areas: programming and design theory (10 percent of the practicum); written and visual design communication (15 percent); construction drawings, schedules, architectural woodwork, specifications, and lighting (30 percent); the relationship between human behavior and the designed environment, building construction, sustainable design, building systems, and interior finishes and materials (30 percent); and code requirements, laws, standards, site analysis procedures, furniture, fixtures, and equipment (15 percent).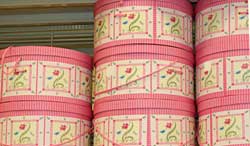 The multiple-choice sections of the NCIDQ exam are scored by computer, while the practicum sections are scored by expert graders. Multiple-choice scores are placed on a scale of 200 to 800, with 500 the minimum needed to pass. The practicum sections are rated on a scale from 0 to 5, with 4 the minimum passing score.
Job Directory
Last Updated: 04/12/2014